04:04 pm - Names (used and not), for my purposes mainly...
Though you're of course allowed to read them. I have a pronunciation key for this purpose (as most of them are in Japanese).


(

Liberal amounts of kanji, bewareRéduire

)




(

English names (actually most are RP names)Réduire

)


I really, really need to come up with more male names. It's mildly sad.
Humeur actuelle:
accomplished
Musique actuelle: Gundam Seed Destiny: Bokutachi no Yukue

08:24 pm - So then. An announcement.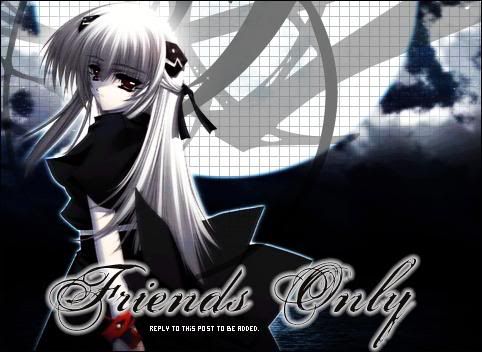 Image banner credit to cdg

As a note, I don't generally friend you unless I've at least read a fair amount of your journal (or know you in real life), because there are private things in here. I don't do fandom updates much anymore either, but I'll talk about it if you want to listen.

<3
Humeur actuelle:
accomplished
Musique actuelle: The Killers: Somebody Told Me